Intern(net) Celebrity:
My Summer with Arts Council Wood Buffalo
Written by Hunter Pratt, ACWB Communications Intern
As my summer internship comes to an end, I prepare for the one question asked as soon as a single leaf hits the ground: How was your summer? My answer: educational! I spent my summer with Arts Council Wood Buffalo where I was quickly integrated into their family feeling atmosphere. Hired as a Communications Intern, I had the pleasure of being able to work along all of their team's great personalities. The inside jokes created make it one of the reasons it is sad for me to leave (not to be dramatic). Well, my time here has almost come to an end, and I want to share with everyone a bit of what it was like to work at Arts Council as a Communications Intern.
To begin a lookback at my summer I must say, my duties as a Communications Intern were not your typical tasks. Here is an example of one of my responsibilities,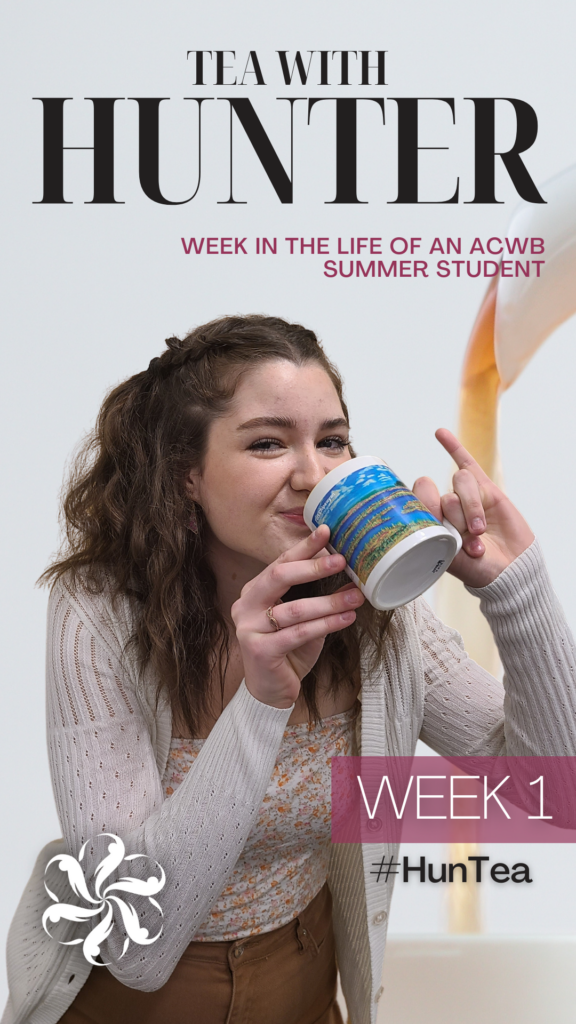 Presented here is the #HunTea series, one of the most fun projects of the summer. With HunTea, I had the complete creative freedom to make high quality video productions (via TikTok) on any topic of my desire. Also launched on Instagram Reels, I would write scripts and film these videos, which were posted weekly. The best part of making these videos was seeing people enjoy them as much as we did when filming. Trust me, the filming of these videos made for a lot of laughter.
To bring me back to earth once my TikTok fame went to my head, I assisted in preparing for Buffys 2021 (Wood Buffalo Excellence in Arts Awards.) As Buffy season rolled around, tasks were given to me such as transcribing audio nominations, assembling nominee graphics, and creating a social media post schedule for all the nominees. As I completed various tasks, I began to witness excitement for the Buffys grow in the office.
I also sat in many meetings like the interns you see in the movies. Except I didn't get that full experience: I never got kicked out, or sent to pick up dry cleaning. Whew! Though, I would say I fulfilled my duties of being the pesky intern, as shown in this TikTok: How not to get in the way of filming.
TikTok never lied. I truly had to badger everyone to participate in them. It was great to have natural actors at hand. A perk of working among artists!
Additionally, I wrote a couple of blog posts for the ACWB blog (including this one). My first blog post was a highlight of why art is crucial to rural communities. As a person who grew up in a rural community, I was pleased to see other rural community members reciprocate their passion towards the arts. Here is me shamelessly linking to my beautifully written story.
On a serious note, a huge benefit of working at Arts Council was being able to see artists in their element. Many artists stopped by to drop off their artwork. Some even performed for an upcoming documentary and I was fortunate enough to see artists loving what they do. Watching artists at their craft enabled me to appreciate every artistic discipline.
While working at the Arts Council, I gained an understanding of many different programs that I didn't know they offered. There are many opportunities for artists to be showcased, such as Art of Conversation, Arts Incubator (coming soon), Marketplace, and more that I had no clue about. It was fascinating to learn about all of them – they really offer something for everyone.
This brings me to my last order of business. Before I leave Arts Council, I truly want to promote it. If you or someone you know is interested in learning more about the arts, start at Arts Council Wood Buffalo. They have created a supportive environment for all artists and will encourage your growth. This is me speaking from experience. To learn more go to their website (artscouncilwb.ca) or follow them on social media: @artscouncilwb.
Thank you to all of the staff, especially the ones that participated in the TikTok-making process! Thank you for having me! 🙂