2020 Buffy Awards: Successful Steampunk Celebration of the Arts in Wood Buffalo
Arts Council Wood Buffalo would like to congratulate all Buffy Award recipients and nominees, and send out a heartfelt thank you to the sponsors, performers, volunteers, and Arts Champions that made the 2020 Wood Buffalo Excellence in Arts Awards a raving success.
"We are so grateful to all event sponsors: In-Kind Midnight Event Sponsor, Fort McMurray International Airport; Presenting Sponsors, Suncor, and the Friends of the Suncor Energy Centre for the Performing Arts; Media Sponsors, Country 93.3, and 100.5 Cruz FM and Mix 103.7; and Supporting Sponsor, Staples. Thank you for believing in the Arts Awards and for continuing to support the community through this recognition event," said Executive Director, Liana Wheeldon.  
The Excellence in Arts Awards (also known as The Buffys) premiered for free on October 17 as an online  cinematic experience. The full broadcast is still available on Facebook and YouTube.  
Buffys watch parties were held all across the region in place of a live event this year. In Fort Chipewyan, Donna Aubichon, ACWB Rural Art Support Liaison, hosted a watch party for Elders in the community, observing health and safety protocols.
"The Wood Buffalo region has an incredible amount of talent in all shapes and sizes,"said Luay Eljamal, Programs Manager. "Thank you to everyone who nominated an artist or group for an award and to  those who took the time to submit their nomination materials. We also want to thank all the artists and  performers who responded to artist calls for this event, and the volunteers who helped while we  recorded the show. The Buffys serve as a good opportunity for everyone to reflect on their artistic  practice, and be recognized for their contributions to our region."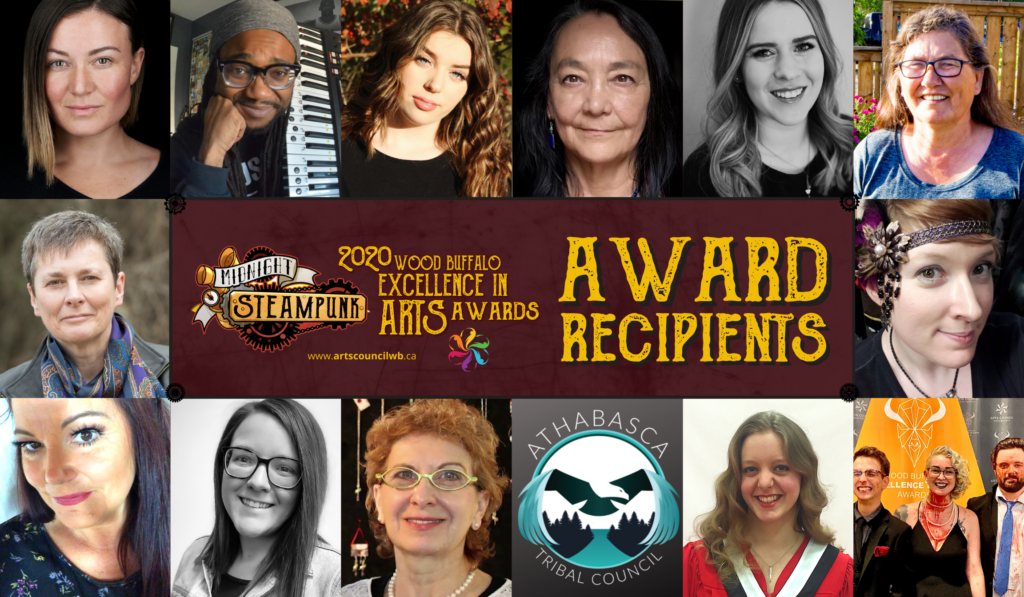 Presented by Arts Council Wood Buffalo, the theme for the awards showcase was Midnight Steampunk and celebrated local artists and arts organizations. This year, the arts community recognized 85 nominees through 14 virtual award presentations, including the Lifetime Achievement Award that went to Tantoo Cardinal, and the Arts Champion Award that went to Florence Weber of Points North Gallery.
The Buffy Awards themselves were handcrafted works of resin art created by local artist, Ambreen Ehtisham. Each award mimicked the beauty of geode rocks in different color combinations suitable for  each specific award category.
The awards showcase also featured a number of collaborative performances by local talent and a  raucous steampunk storyline written by Elizabeth Wells and Zachary Barrett, who hosted the show.  Performances included a diverse range of dance pieces, original and classic music, comedy, and theatre  supported by visual arts, functional sets, costumes, props and puppets, all of which were tied together  by local video artists Matthew Lorenz, Matthew Piercey, and Neville Video Productions to create a cinematic steampunk experience. 
Midnight-Steampunk-themed Gear Bags and Buffy Stuffys are still available through Eventbrite. Buffy Stuffys are limited edition, collectible plush toys modelled off each year's event theme. This year's Buffy Stuffy is Wendell the Raven, who is modelled off one of the Midnight Steampunk characters designed by  local artist Rob Hickey. Canvas Gear Bags are loaded with a candy sack (in the style of the annual candy  bar), acrylic drink coaster, ACWB face mask, Buffys pin, event program, and sticker.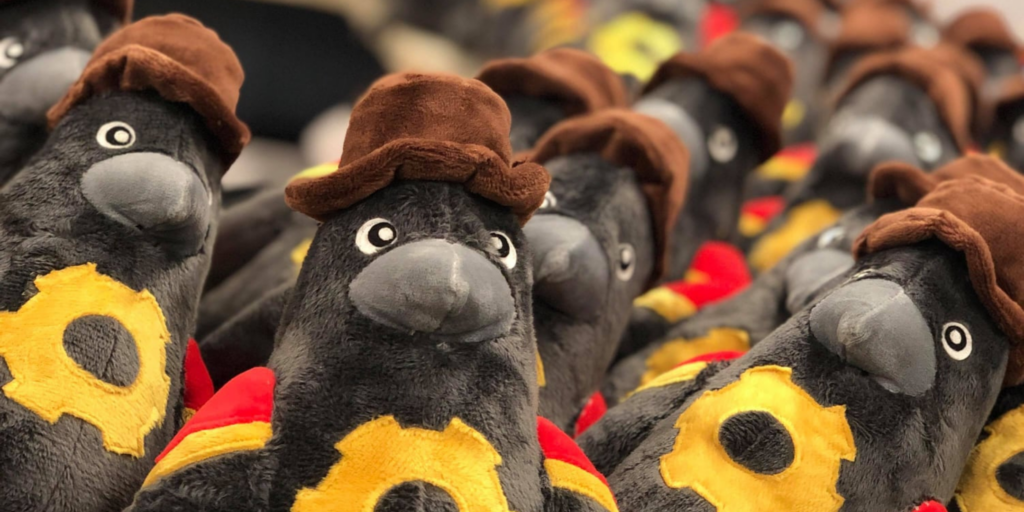 Participate by buying this unique memorabilia. All proceeds will go towards supporting future Buffy Award showcase events and celebrations. Opportunities to support the 2021 Buffy Awards through sponsorships or donations are open now.  
Check out and continue to share Buffy experiences on social media using hashtags #buffys2020 and #ymmartstogether. For the full list of award recipients and nominees, sponsors and support opportunities, and for more information about Arts Council and the Buffys, visit artscouncilwb.ca/buffys.