Month of the Artist
Did you know September is Month of the Artist in Alberta?
Did you also know that Alberta is the first and remains the only province in Canada to dedicate a month to artists?
Month of the Artist is an annual celebration of artists and the value they bring to the province, both socially and economically.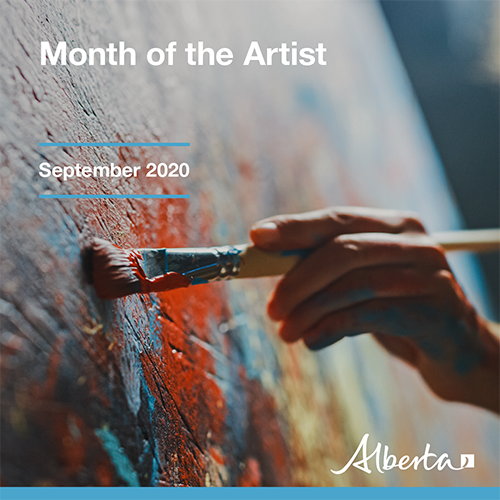 Now let's take a few minutes to do what artists do best: use our imagination!
Can you imagine space in Wood Buffalo that is a dedicated centre for artists to gather and work on their craft? What if that same space was also a venue for performances of all disciplines? How about a workshop space for artistic and professional development, a place to showcase the creations made by local talent, and for the community to gather and celebrate creative energy?
Are you still with me?
Now let's imagine that same place could also be used to host events, festivals, markets, and offer opportunities for the community to engage in the arts together.
Can you envision that?
What we have just imagined is an arts incubator. Wouldn't it be amazing if our community had an arts incubator that could support the arts in the ways we've just imagined?
Arts Council Wood Buffalo is currently working on realizing this for our region. We are in the early stages, and you can participate in this process and help shape this idea into a reality.
You can help by exercising your imagination and sharing your thoughts in ACWB's Arts Incubator survey. Open until October 6th, 2020, you can take the Arts Incubator survey and share it with your friends, family, colleagues, and social media followers. Your feedback will help identify what is needed in this arts incubator and who will use it. This information can then be used as we study the former Landmark Cinemas theatre on Manning Avenue to see if that space could be re-purposed into an arts incubator for the community.
Your feedback will help show potential funders, community leaders and decision makers that we need an arts incubator in the community. Your feedback will help Arts Council Wood Buffalo when we apply for grants, funding opportunities, sponsorships and other support needed to realize this arts incubator we have just imagined.
Let's celebrate Month of the Artist by showing Alberta and Canada that it's a year-round event in Wood Buffalo.
Fill out the survey here by October 6. Learn more about our plans for the arts incubator here.