ACWB and St. Aidan's Society Launch another round of Art of Conversation
Arts Council Wood Buffalo (ACWB) is teaming up with St. Aidan's Society for another round of Art of Conversation, a collaborative project that brings Artists, Seniors, and Elders together to create art from a distance.

Opportunities are now open for Artists of all disciplines, as well as Seniors and Elders (+60 years of age). ACWB will be commissioning Artists based on accepted applications, and registering Seniors and Elders until all spots are filled.

This project provides an opportunity for Wood Buffalo Artists to work together with Seniors and Elders across the region over the phone to create artistic projects of their choosing based on their conversations.

"In April 2020, we teamed up with St. Aidan's Society to launch Art of Conversation with the goal of engaging Seniors and Elders in the arts," said Programs Manager, Luay Eljamal. "Based on the artwork created, and the reactions from participants, we soon knew we were on to something special for our community."

The pandemic made the project more important than ever as art helps participants make personal connections, enhance their health and mental well-being, and overcome feelings of isolation — despite physical distancing.

Since the project was launched, there have been 36 pairings (31 artists and 34 Seniors and Elders), works of art have been installed in the Art of Conversation virtual art exhibit, local production company Twisted Gears Studios produced 14 testimonial videos, and a one-hour documentary by Bamboo Shoots and Telus has just been released on Arts Council's YouTube channel.

Perhaps most importantly, 89% of surveyed participants felt more connected to the community as a result of Art of Conversation. All Artists expressed an improved understanding and appreciation of Seniors and Elders.

"I thought I was doing it to support the artists, not realizing how much I would gain from the discussions and the resulting poetry," said Hope, participating Senior. "I probably wouldn't have signed up in normal times, but in the early self-isolation times of spring 2020, and with so many of my friends and relations still working or teaching from home and with limited time to offer me, the chance to meet an artist for a chat was very appealing."
"We couldn't have brought Art of Conversation back to the community without the generous support of Suncor and the New Horizons for Seniors Program by the Government of Canada," says Executive Director, Liana Wheeldon. "It has been incredibly rewarding to see the impacts of this project on participants, and we look forward to seeing what grows out of this round of conversations."
Eligibilities
● Artists must be Wood Buffalo residents for the duration of the project.
● Seniors and Elders must be Wood Buffalo residents, 60 years of age and over.
Learn more about the Art of Conversation initiative and application requirements in the Opportunities & Calls section of Arts Council's website.

Help support this project by purchasing an Art of Conversation mug through Arts Council's Marketplace. Choose from five mugs featuring art created during the project.

See what the conversation is all about and admire the artwork created during this project in the Art of Conversation Virtual Exhibit.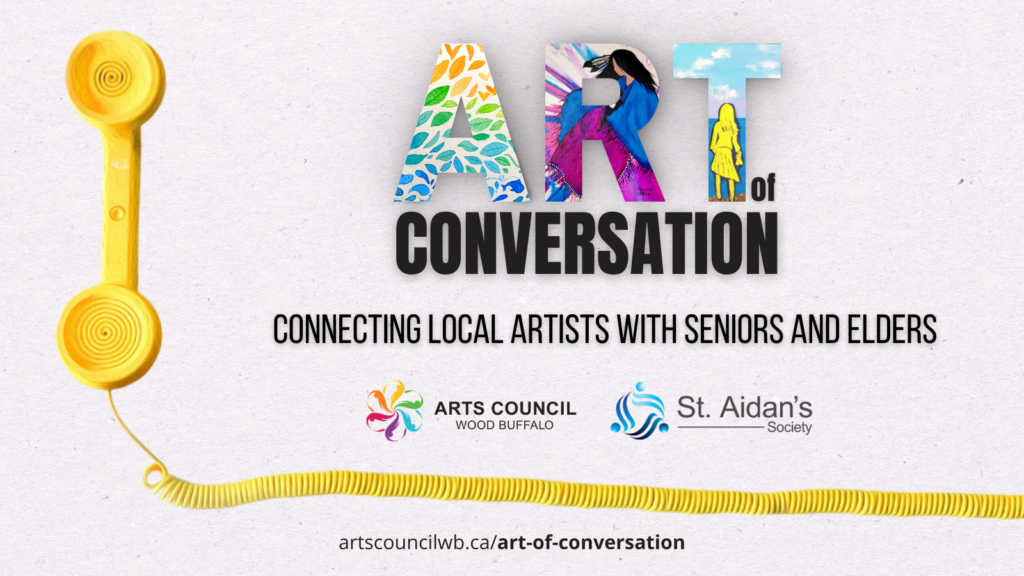 Arts Council Wood Buffalo (ACWB) is a non-profit society and charitable organization that supports the growth and success of the arts in Wood Buffalo. ACWB was established to raise the profile of the arts in our region and to provide support to all facets of the arts community.