Giving to the Arts this holiday season: November 29
This holiday, ACWB is inviting Wood Buffalo residents, businesses, and organizations to participate in Giving Tuesday on a local scale by becoming an Arts Champion. This movement aims to support the arts and the well-being of residents across the region.
You can support yourself and others through the arts by becoming an ACWB member, sponsor, donor, or volunteer. See below for the six ways you can become an Arts Champion.
Enter to WIN $5,000 for ACWB: Nov. 15 – 29
Enter the GivingTuesday contest to win $5,000 from CanadaHelps. Every donation made until November 29 is an automatic entry to WIN a $5,000 CanadaHelps charity gift card that can be used to further support Arts Council Wood Buffalo or other charities and causes you care about.
What is Giving Tuesday?
GivingTuesday is a global generosity movement, taking place each year after Black Friday. The "Opening day of the giving season," it's a time when charities, companies and individuals join together and rally for favourite causes. In the same way that retailers take part in Black Friday, the giving community comes together for GivingTuesday.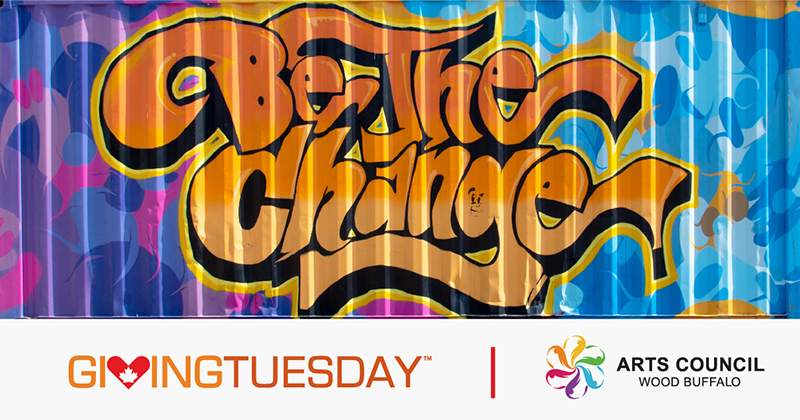 Six Ways to Support ACWB
1) Donate to ACWB. We are a registered charity and you will recieve a tax receipt for donations of $50 and above. Plus, that donation will go towards our Membership Bank. See more about the Membership Bank below.
2) Sponsor programs or Awards. You can sponsor an award for the Buffys, ACWB's annual Wood Buffalo Excellence in Arts Awards, held in the Fall each year. Alternatively, you can sponsor one of our existing programs, or pitch a new program that supports the arts community. To pitch a new program idea, contact the ACWB Programs Manager, Luay Eljamal, at luay@artscouncilwb.ca or (587) 674-1625 ext. 102. To sponsor an award or program, visit our Support Us page to see opportunities.
3) Buy or gift a membership. Buy a membership for yourself or your organization or gift it to an artist that you know! There are a number of benefits to being a member, including discounts, news and opportunities, consultation services, promotion for your arts practice, access to Marketplace, and much more . In addition, you will be adding to the voice for the arts in Wood Buffalo. Larger numbers means a louder voice when Arts Council advocates for the arts community to all levels of government.
4) Renew your membership. There are plenty of benefits to your membership, including monthly newsletters with the inside scoop on opportunities, grants, and artist calls. In 2020, we introduced Marketplace as a free member benefit, so you can have your own online shop on Arts Council's website. Don't forget the Artist Directory, where you can upload your artistic profile for the community to see when they are looking to hire local talent.
5) Apply to the Membership Bank. Do you want to become a member, but can't afford membership fees? Send an email to our Communications Coordinator, Sahar Saifee (sahar@artscouncilwb.ca) or call 587-674-1625 x.104 to access the bank of free 1-year memberships. She will get in touch with you so you can register (for free), and we can get your contact information to activate your membership.
The Membership Bank is a "bank" of free ACWB memberships to help ensure everyone can be an ACWB member. Financial donations made to ACWB from November 23 until December 23 will go towards the Membership Bank. This will help make memberships barrier-free, so anyone in the region can have access to the benefits of ACWB membership and be a part of the unified voice for the arts in Wood Buffalo.
6) Volunteer with ACWB. Sometimes we need volunteers help to deliver programs and events. Sign up to be added to our volunteer database. We'll contact you when we have opportunities.
Not an Artist?
You don't need to be an artist to be an Arts Champion. All you need is a passion for making our artistic community more inclusive. You don't even need to identify with the word 'artist' to support creativity, culture, conversation, and connection for everyone in the region.
Thank You for Supporting the Arts
On behalf of the ACWB Board of Directors and Staff, thank you for contributing to a remarkable quality of life through the arts by being an Arts Champion.
Questions?
Contact Akshaya Lakshmi, our Communications Coordinator at sahar@artscouncilwb.ca or 587-674-1625 ext.104.