August 2020's Centre Stage with Shantelle Davidson
Shantelle Davidson's first memories of being an entertainer made her feel nervous and very excited all at the same time. Even from a young age she knew that music was her purpose, and she needed to pursue it.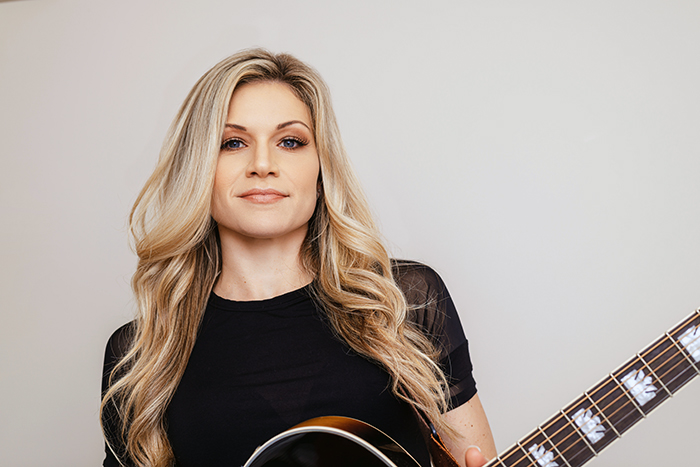 "I started singing onstage with my Grandma and her band when I was 6," said Davidson. "I enjoyed piano, voice and guitar lessons." She hasn't looked back in her musical rearview mirror ever since.
Hailing from Rainy River, a small town in Northern Ontario bordering on Minnesota, she grew up singing in church and at local talent shows. Davidson moved to Fort McMurray with her family in 2005. "I remember being so excited to live in a 'big city.' I became a part of the arts community, singing in choir, musical theatre, and Keyano Theatre. I've been here 15 years."
Growing up so close to America, it was almost like it was her destiny to spend some time in the south. "One day at Westwood [Community High School], I saw a poster for auditions to The American Musical and Dramatic Academy (AMDA) in Los Angeles, California. I thought I would give it a shot. I couldn't believe it when I got the acceptance call from AMDA offering me a scholarship."
Davidson graduated from AMDA in 2008, and spent time in Vancouver working as an actress and recording original music. She later returned to Alberta to record her solo debut album in Calgary, which was released in 2015, earned impressive reviews, and was played on radio stations across Canada and the United States.
As part of her busy musical career, Davidson performed some of her original music at 'Around the Campfire: Music, Stories & Songs' in May 2020. Inspired by the traditional Nashville-style guitar pull, she took turns playing songs, and swapping stories and personal recollections with a number of local singer/songwriters, which was streamed live from the Suncor Energy Centre for the Performing Arts.
The Guitar Pull "was so fantastic," said Davidson. "I loved hearing the songs and stories from the other artists, as well as sharing my own. I was just over the moon to take part."
"I feel so privileged to work and play here," says Davidson. "Inspired by so many great people in our community, it makes it easy to create. There are so many opportunities. Most of all, I love the way our community supports the arts."
Despite the uncertain times, Davidson had been recording new music with help from her friends at the District Recording Studio (before the flood), and continued recording new vocals for the project down in Edmonton with Dan Davidson, as well as Clayton Bellamy of The Road Hammers. "It's a challenging time for everyone. As an artist, I feel called to inspire more than ever."
Stay tuned for Davidson's new single "Looking Up," coming this summer on Canadian Country radio. Keep up to date and listen to her music by following @shantelledavidsonmusic on Instagram, Facebook
and YouTube.

Connect to the local arts community and follow Arts Council Wood Buffalo on Facebook, Instagram, Twitter or LinkedIn (@artscouncilwb), or visit the brand new website at www.artscouncilwb.ca.