Making it in Music Part 2: A Conversation with Modern Times Trio & Dan Gillies
In early February 2020, Arts Council hosted a two-part series for the Business of the Arts (BoA) program entitled Making it in Music. The first part featured a songwriting workshop with pianist and composer, Denis Nassar, held at The District Recording Studio; the second part was to be a jazz concert and conversation with professional Alberta jazz musicians Modern Times Trio and Dan Gillies.
Part 1 was a blast as Denis Nassar took songwriters through a number of tips and tricks for getting songs from imagination to reality. While we don't have video of that adventure, you can now watch Part 2 on YouTube.

Unfortunately, the concert was cancelled, but we were able to record an in depth conversation with Modern Times Trio and local guitarist, Dan Gillies, on what it takes to be a professional – not only from an artistic perspective, but also with a focus on the music business.
Watch the Conversation on YouTube
Now you can watch the entire interview on YouTube, which was facilitated by ACWB newbie, Will Collins (Communications Coordinator), on his second day working for Arts Council.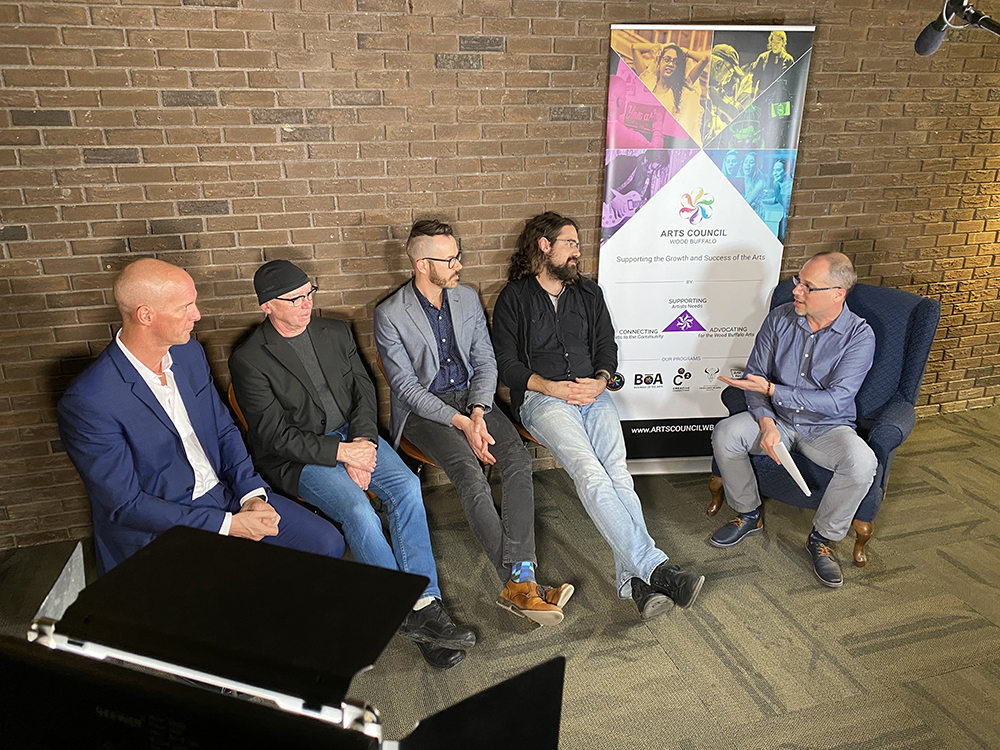 Modern Times Trio brings together three of Alberta's most in-demand performing and recording artists: guitarist, Ryan Davidson; bassist, Mike Lent; and drummer, Thom Bennett. The group is inspired as much by film music, drum n' bass, and contemporary sounds as it is by classic and modern jazz music. Their repertoire ranges from inventive originals to reimagined updates of classic material – including bands like Radiohead. Modern Times Trio's music is fun, compelling, melodic, and accessible. Learn more about Modern Times Trio in this Business of the Arts blog post.
Local professional musician and instructor Dan Gillies also joined in the discussion about the music business to add a local perspective. Dan released his first instrumental album in 2014. The album featured styles ranging from classic rock to modal jazz to Celtic mandolin, and was hailed as a "brilliant fusion of styles." Dan's various groups have shared stages with The Trews, George Canyon, Bachman & Turner, The Road Hammers, and many others. Dan is also an author and regularly contributes to Canadian Musician Magazine.