Getting to Sold
Taking Artisans Step by Step Through the Process of Getting their Craft from a Hobby to Market
For two weeks in August 2020, ACWB will be hosting a series of four online workshops designed for crafters, artisans and new artists looking to get their products to market.
Led by Arts Recovery Project Coordinator, Sharon Heading with the support of experienced local artisans, they'll deliver information that they have used in setting up their successful businesses. You'll be taken step by step through the process of getting your craft from a hobby to market.
Register through Eventbrite today.
This project has been funded by the Canadian Red Cross as part of the Arts Recovery Project.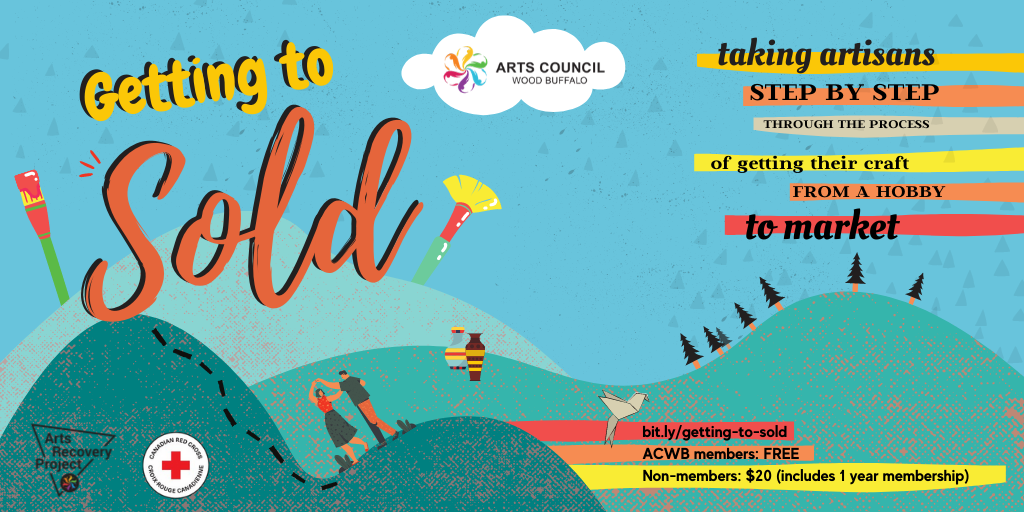 Event Details
Dates: (This is a series of four online workshops.)
Tuesday, August 11
Thursday, August 13
Tuesday, August 18
Thursday, August 20
Time: 6 – 8 p.m.
Location: Zoom classroom.
(Registrants for the workshops will be sent a Zoom link and specific details as the workshop dates approach.)
Fees
ACWB Members – FREE. A promo code has been sent to members in their monthly e-newsletter. If you are a member and have not received a code or can't find it, please contact us at hanna@artscouncilwb.ca.
Non-Members – Pay $20 for the workshops and get a free one-year individual membership. Not only will you have access to the four Getting to Sold workshops, ACWB membership also allows you access to the soon-to-be-released online Marketplace and much more. Learn more about the benefits of becoming an ACWB member.
Register through Eventbrite. Register today and take your first step in becoming the artisan/entrepreneur that you've been dreaming of.
Donations of $20 and above will go towards the free Membership Bank to help make memberships barrier-free, so anyone in the region can have access to the benefits of ACWB membership and be a part of the unified voice for the arts in Wood Buffalo. Donations of $50 and above are eligible for a tax receipt.
Additional Details
As part of the Arts Recovery Project, we have been listening to the arts community. Many local artisans would like to know how to get their products to market, make sales, and have their own legitimate businesses.
In the current economic situation, keeping art alive is vital. Community markets, virtual markets or websites are just a few of the opportunities to sell your product. Get the answers to important questions to make your business more competitive in the artisan marketplace.
As part of this online workshop series, these are some of the questions we'll be discussing:
How do you find your place?
Do you need a business license and insurance?
How do you package your product?
Where can you sell your products: online, in markets, at stores?
Marketplace – Coming Soon
Stay tuned, artisan/entrepreneurs!  After the series of Getting to Sold workshops in August, we will show you how to set up your own profile on the Marketplace, an online sales/shopping platform to be hosted on the ACWB website. 
You'll be able to sell your products, track sales, enhance your brand, build your following, and develop your dream of getting your art on the market.
Getting to Sold Manual – Coming Soon
ACWB is working with a local artist to create a learning manual for tactile or visual learners and for use in communities where training technology or traditional workshop delivery may not be available.
The manual will support Getting to Sold workshops, so they can be delivered to an audience of a wide variety of ages and learning styles. The manual will be available in both digital format and printed formats, and shareable through online platforms.
Register through Eventbrite today.
Questions and More Information
For questions or more information, please contact Sharon Heading, Arts Recovery Project Coordinator, at sharon@artscouncilwb.ca, or 780-381-6898.