March's 2021 Centre Stage with Andrew & Chris Pottie
Spotlight on Andrew and Chris Pottie
"We grew up in Nova Scotia, where our father played music his whole life," said Chris Pottie. "That's where it all started for us musically."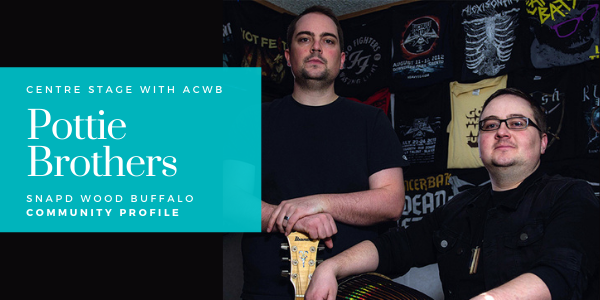 Andrew and Chris Pottie have established some serious musical roots in Wood Buffalo. You may have seen them performing with their band, The Borderpines, at Tavern on Main, community events such as HomeTown Hockey and YMM Food Fest, or at the intimate theatre show where they released their first album in early 2019.
"Our music scene in Antigonish, Nova Scotia was unbelievable," said Chris. "We had an endless supply of local bands and musicians to play with, so we started organizing, promoting and running our own shows at all-ages venues. This really sparked our love for live audio production, which we continue to do here in Fort McMurray."
Chris came to Fort McMurray in 2009, and Andrew joined him in 2013. While Chris focuses on playing guitar, singing and writing songs, his brother, Andrew, is the perfect complement filling in on drums, percussion, vocals and production.
If you haven't seen Andrew performing, you may have seen him supplying audio, lighting, and recording services at events of all types. He's also a drum instructor.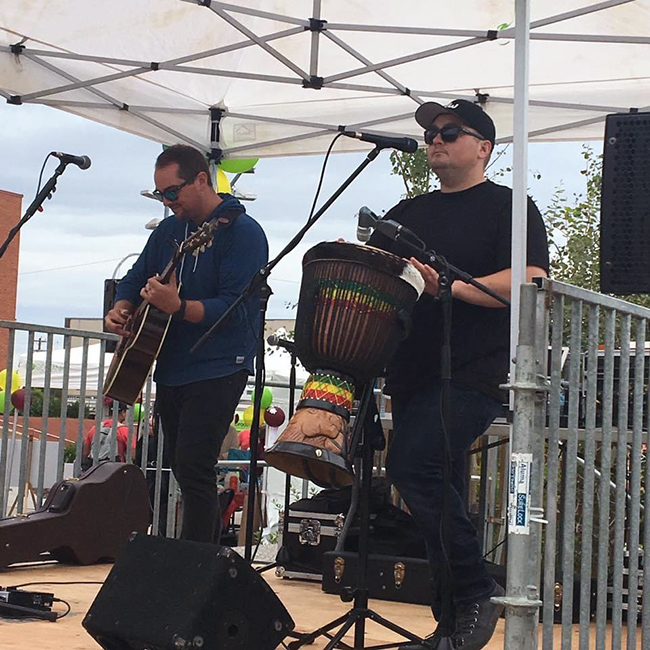 "Due to a lack of regular live events," said Andrew, "I decided to offer drum lessons to aspiring and early drummers to help them reach their drumming goals."
"In just the handful of years I've been here," said Andrew, "I already have so many fond memories from being a part of this community – while on the stage, in the crowd, or on the audio controls."
"We'd normally be performing in town at least once a month," said Chris. "Our current focus is writing music for a few projects. We do regular livestreams on Twitch since the pandemic started last March, where we've been raising money for the FMSPCA."
"We're also recording the second The Borderpines album," said Chris. "We're expecting to have the album released this spring."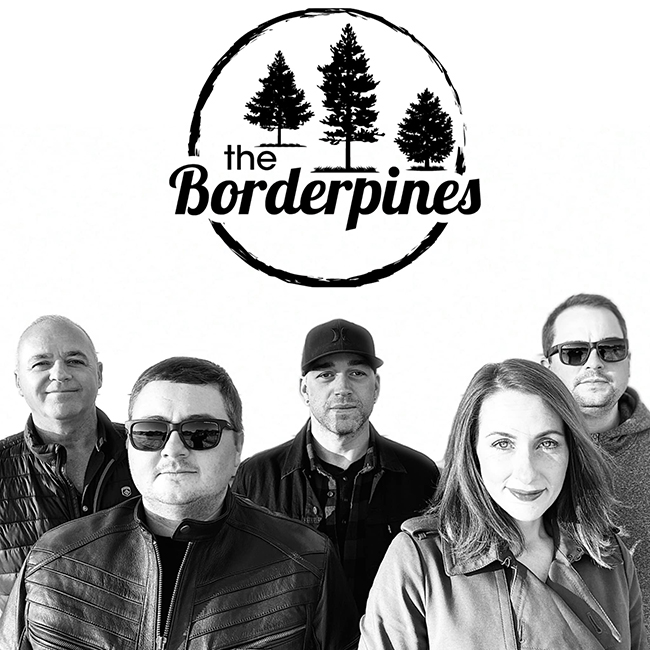 The Borderpines includes local musicians Bill McCrone on bass (who hails from the same area as the Pottie brothers), Jeremy Rice on guitar, and Amanda Rice on vocals.
"Loose Change is a fun side project where we've been creating some drum/bass electronic songs," said Chris. "This spawned from our Royal Blood set we did for the Tavern Tributes," a series held at the Tavern on Main through 2018 and 2019 featuring various groups of musicians performing sets of music by preselected bands.
"I'm also so grateful to have received the Ken Flaherty Music Award at the 2019 Buffys, after being nominated among all my music peers," said Chris.
Follow Andrew and Chris on Facebook or YouTube (@theborderpines), or catch their shows on Twitch @twitch.tv/borderpines. For drum lessons, contact Andrew at pottie_andrew@hotmail.com.
Nominations and self-nominations are now open for artists or groups for the 2021 Buffys. Learn more about the arts awards at artscouncilwb.ca/buffys.
Connect to the local arts community and follow Arts Council Wood Buffalo on Facebook, Instagram, Twitter or LinkedIn (@artscouncilwb), or visit the website and become a member for arts information, resources and opportunities.