Flashdance the Musical Hits Keyano Theatre Stage
You don't need a hot tub or a time machine to go back in time — just head to Keyano College Theatre & Arts Centre from Feb. 14 – 22 for a flashback of 1983 with Flashdance The Musical.
Featuring local talent – both veterans and newbies to the Keyano stage – garbed in glitter, glam, denim and even legwarmers, the costumes themselves are enough to transport audiences to the early 80's.
We can't forget the hair – oh, the hair! The musical's lead actors, Helen Killorn (Alex), and T.J. Carabeo (Nick), who play star-crossed lovers, bantered at the Media Showing on Feb. 12 about whose hair gets more attention in the dressing room. The actors' playfulness reflected both their chemistry and the energy of the show.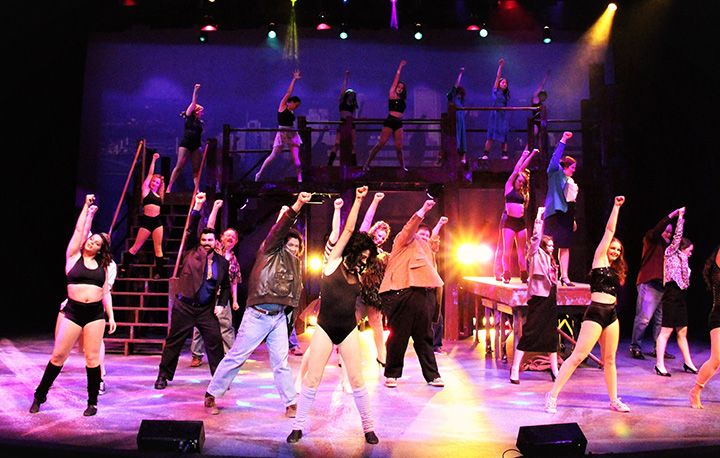 The stage production is magical as it transforms from an industrial sweatshop to exotic bar to lunchroom to ballet studio, literally setting the stage for the countless performers to move effortlessly through choreographed dancing, dramatic action, romance, and comedy, all fueled by high-octane energy and music.
One cannot listen to the soundtrack of this musical without tapping toes, bopping heads or singing along with the performers. Just don't sing too loudly. The performance is too good to miss, so save your singing for the shower after you get home. No doubt, these familiar tunes will stick in your head for days after the production has wrapped up.
Based on the super successful 1983 film, Flashdance The Musical boasts an iconic score and pop hits including "Gloria," "I Love Rock & Roll," and the sensational title track "Flashdance… What a Feeling."
You'd be a "Maniac" to miss this musical.
Presented by Keyano Theatre Company
Dance like you've never danced before! Flashdance The Musical tells the inspiring and unforgettable story of Alex, a welder by day and 'flashdancer' by night, who dreams of becoming a professional dancer. When a romance complicates her ambitions, she harnesses it to drive her dreams.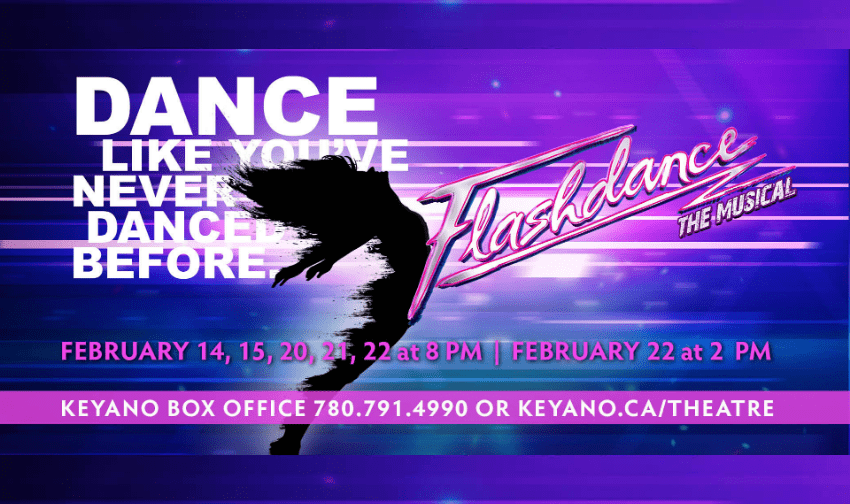 Event Details
Opening Night – Friday, Feb. 14 (great Valentine's Day opportunity, folks)
Saturday, Feb 15 @ 8 p.m.
Thursday, Feb. 20 @ 8 p.m. – Talkback
Friday, Feb. 21 @ 8 p.m.
Saturday, Feb. 22 @ 2 p.m. – Matinée
Saturday, Feb. 22 @ 8 p.m. – Closing Night
Rating – Mature (Drug and Sexual references)
Tickets
Regular tickets: Adult $45
Student $32
Senior $38
Get tickets: http://bit.ly/KTFlashdance