April's 2021 Centre Stage with Emmalyn Soriano
"I believe in the imperfection of art," says Emmalyn Soriano. "Imperfection allows us to explore our creativity and encourages us to try arts and writing. Art is for everyone."
This is the foundation of Emmalyn's philosophy for her explorations as a painter, poet and photographer.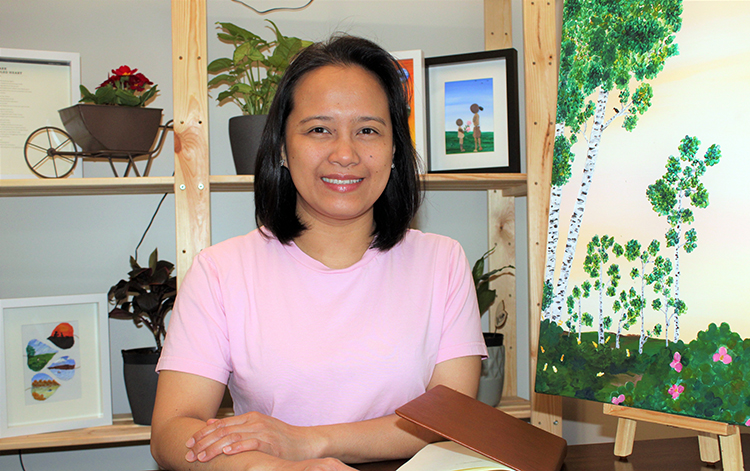 "When I was in elementary school, I loved to draw scenery," says Soriano. "I also joined slogan and poster-making contests, but I never won." Fortunately, that didn't stop her.
Since moving to Fort McMurray in 2014, Soriano has had one of her poems published in Northword Magazine, three poems included in Words in Motion, three paintings displayed in Arts in Motion exhibits, and one of her paintings has been printed for the Municipality's Street Banner Program. She has also been nominated for a Buffy for Literary Arts as part of ACWB's annual Excellence in Arts Awards.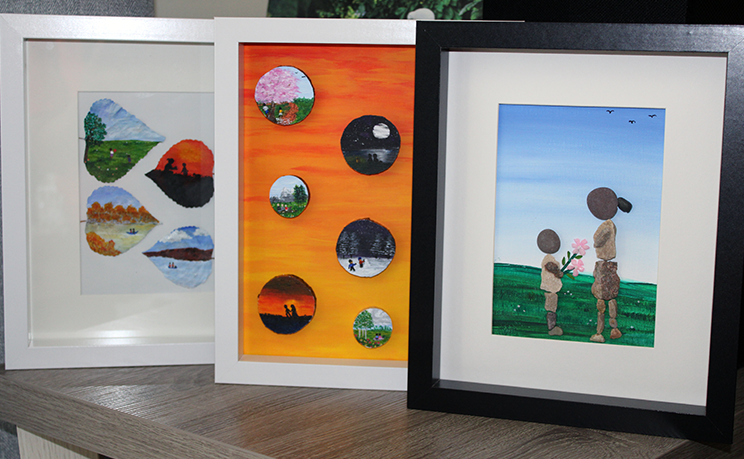 Emmalyn is from the Philippines, where she had worked as a Registered Nurse, Nursing Lecturer and Clinical Instructor. Nowadays she works as a Medical Office Assistant, which she considers supportive of her talents.
She has been living in Fort McMurray with her husband, Gudy, for seven years, but finds it very difficult being away from her parents. "That's why I started painting and taking pictures," says Soriano.
"I never thought that I would be able to write poems. I'm not very good with grammar and sentence structure, but it happens. It's like magic. Life is just full of surprises."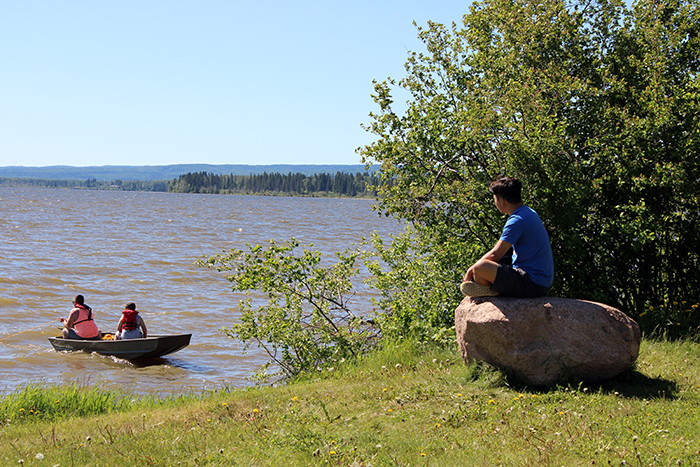 Much like Bob Ross, the classic TV painter and art instructor, Emmalyn sees happy accidents as an opportunity for improvement.
"Mistakes with color blending, blurred shots, struggles with sentences, grammar, and facing hundreds of rejections are all part of mastering our craft. I keep on submitting my work to artist calls, entertaining rejections, and celebrating invitations for exhibits and paper publications."
Northern Alberta is quite a different environment from her home in the Philippines, and she draws on the nature found in her new surroundings for inspiration.
"Nature is always the subject of my work," says Emmalyn. "When I go for a walk, I pick up random pebbles, leaves, flowers and wood chips. Pebbles have unique shapes, like jigsaw puzzle pieces. It's difficult to put them together to form a figure, but it's fun and rewarding. I use dried leaves and wood chips as the canvas for my paintings. The challenge is to be gentle, so they don't break into pieces."
Emmalyn has a solid appreciation for the local arts community. "There are many opportunities for us to showcase our work and talents, and get recognition as well."
She leaves us with a few words of wisdom: "As an artist, don't give up on your craft, sometimes we lose motivation and focus. Take your time, process, turn that brush/pen into a sword, face your struggles and keep going."
Learn more about Emmalyn Soriano and her artwork on ACWB's Artist Directory.
Connect to the local arts community and follow Arts Council Wood Buffalo on Facebook, Instagram, Twitter and LinkedIn (@artscouncilwb).