April 2020's Centre Stage with James Ritchie
"Some of the hardest workers in the world are in Wood Buffalo," says local visual artist, James Ritchie. Work ethic is one of the biggest lessons he has taken from being an artist in the region.

While some professionals get up early (or late, depending on the shift) to catch a bus out to site, this professional artist is also known to get up as early as 4 a.m. to go out to his garage studio and work for up to 12 to 14 hours a day.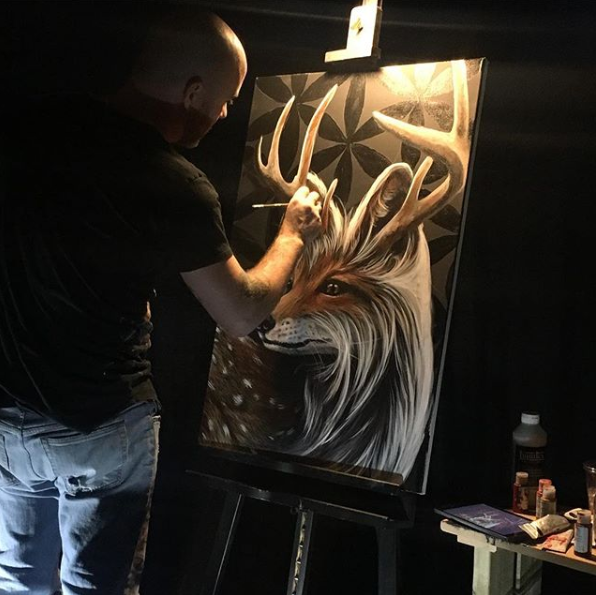 "I figure that if I'm going to live here, I need to bust my butt just like everyone else does," says Ritchie.

Nowadays, he's making a living as a visual artist in Wood Buffalo. His home studio offers privacy and few distractions, so he's very productive even though he says he still has a lot of work to catch up on. Some of his current projects include commissioned paintings, works for local non-profits like Fuse Social's Timeraiser event, or an ongoing project for the Fort McMurray Golf Course.

Working with oils and acrylics, Ritchie takes a visionary, surrealistic approach to painting abstracts, animals and nature. Growing up in Nova Scotia, he spent a lot of time outdoors. "I've always had a special relationship with the forest and wildlife."

After studying graphic arts out east, a two-week vacation to Vancouver morphed into a ten-year stay. While in Vancouver he continued to practice his art, participated in live painting competitions (with two Golden Brush wins), hosted corporate paint nights, and taught painting classes to at-risk youth.

"The crazy thing is, some of the kids with the most potential didn't believe in themselves," said Ritchie. "I was one of those kids once, so I get it. I'd like to start teaching classes in the community to gain [a better] understanding [of my own work], and eventually lead art retreats. I feel that I've taken punches that I can help aspiring artists avoid."

Not only does he want to continue growing as an artist, he also wants to continue growing as a professional. Ritchie moved to Fort McMurray about one and a half years ago to be closer to family, and taking the plunge as a full-time artist has helped him to take his work more seriously.

He used to sell his art for relatively low prices, because he didn't feel like he was at a professional level yet. Now that he is coming into his own as an artist, he is treating his art more like a business and learning to charge accordingly for his work. This has helped him to fund his craft and sustain a living. It also shows his audience that they are investing in quality.
Plans are in the works for his first exhibition in Fort McMurray for later in 2020. Follow James Ritchie on Facebook and Instagram to see his art, inquire about sales, and get updates: @dr_ritchie. If you're interested in connecting to the local arts community, follow Arts Council Wood Buffalo on Facebook, Instagram, Twitter or LinkedIn or visit the website at www.artscouncilwb.ca.