ACWB Annual General Meeting: June 25, 2020
Please join ACWB Board of Directors and Staff at our 2019 Annual General Meeting (AGM) on Thursday, June 25, 2020. This year, we'll be hosting our AGM via Zoom webinar from 6:30 – 8 p.m.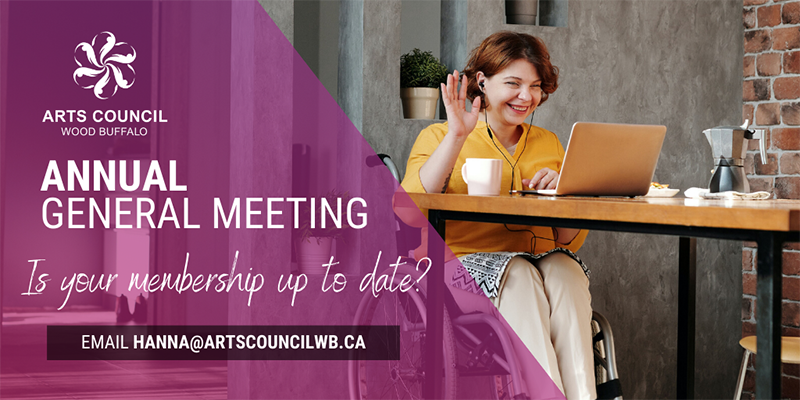 Save the date and bring some snacks as we highlight the successes of 2019 and look forward to what's in store for 2020. There will be a special presentation revealing the theme of our 5th Annual Wood Buffalo Excellence in Arts Awards (a.k.a. Buffys), as well as a Member Q&A session at the close of the event.
All members in good standing (i.e., membership must be active and up to date) will receive a link to the AGM Zoom webinar via a reminder email sent out June 18, 2020, and again on the day of the AGM.
Click the following links to find the 2019 AGM Agenda Package and 2019 Approved Financial Statements. View the 2019 Annual Report and previous reports on the About Us page and scroll to the bottom under Publications & Reports.

Thank you to those who completed a Proxy Voting Form and returned it by June 24 via email to hanna@artscouncilwb.ca.

Any questions? Contact hanna@artscouncilwb.ca
Please be sure your membership is up to date and active. If you're not sure, please contact Hanna Fridhed at hanna@artscouncilwb.ca.
We look forward to seeing you there.